Discover
Visit - Order - Shop
Due to the ongoing pandemic, we have been constantly adapting to ongoing changes since March (seems oh so long ago…).  We continue operating with limited staff and strict safety measures in place. At this time, we are offering limited OUTDOOR RESERVATIONS – every Friday, Saturday and Sunday – under the lovely canopy and on our garden patio, preorder AFTERNOON TEA TO-GO MENU, PARTY PACKAGES, LOOSE LEAF TEA, GIFT VOUCHERS, TEA ACCESSORIES & GIFTS which are all available online.
Due to the ongoing global coronavirus (COVID-19) outbreak, and for the protection, health and safety of our guests and staff, strict safety measures are in place at Sip Tea Room. By making a reservation you agree that:
all members in your party will properly wear face coverings. No exceptions.
guests at your table are part of your household (aka: quarantine buddies).
everyone will practice physical distancing.  
TO-GO ORDERS & ACCESSORIES: Takeaway for Traditional Afternoon Tea Service, Scones, Sausage Rolls and more are available every Saturday and Sunday at 11am (online preorder is required) We also have gift vouchers, loose leaf tea and a selection of tea accessories, all found here.

PARTIES TO-GO: Details on larger 8-person celebration take-away party packages may be found here.
We want to take a moment to thank you for your support, and your order. During this challenging period, every order makes a positive impact on our small business. We hope that your experience with Sip Tea Room is a pleasant one, and that your day is bursting with love and joyfulness.

With gratitude,
Shannon & Paula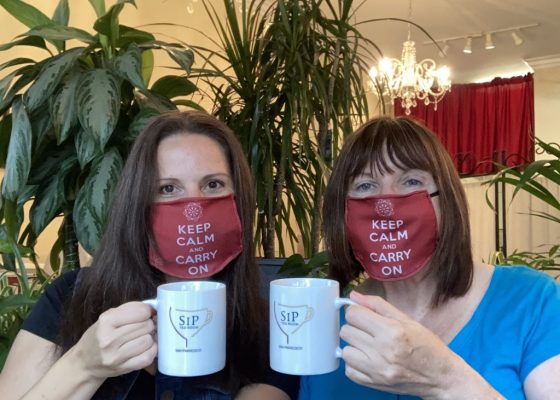 "We just love the tea experience at SIP! And with Shelter In Place, these ladies have gone above and beyond for beautiful and tasty take-out tea service for home." 
-Five Star Review from M.M.