A Day Trip for Tea

Getting out of a regular routine and going out for Tea can be a lot of fun, especially for seniors who may not get out much. Everyone loves a reason to get dolled up; Afternoon Tea is the perfect excuse! Our private tea parties are designed with our senior friends in mind. We do all the work to create a stress-free afternoon tea experience that everyone is sure to enjoy. A convenient loading zone for buses/vans is located in front of the tea room. Additionally, we are directly across from Golden Gate Park, for those who wish to visit the gardens after their Tea.

Special seating's are available for reservations every Thursday and Friday, at 11am. For groups with 15 or more, the tea room will be reserved exclusively for your group. We work with senior centers to coordinate meaningful events that encourage plenty of fun and socialization. The main tea room can accommodate up to 24 guests. For overflow seating, our lovely garden patio can comfortably seat 12 guests.
See our menu options below for details and pricing. Full Traditional Tea Service -or- a Lighter Fare option are available.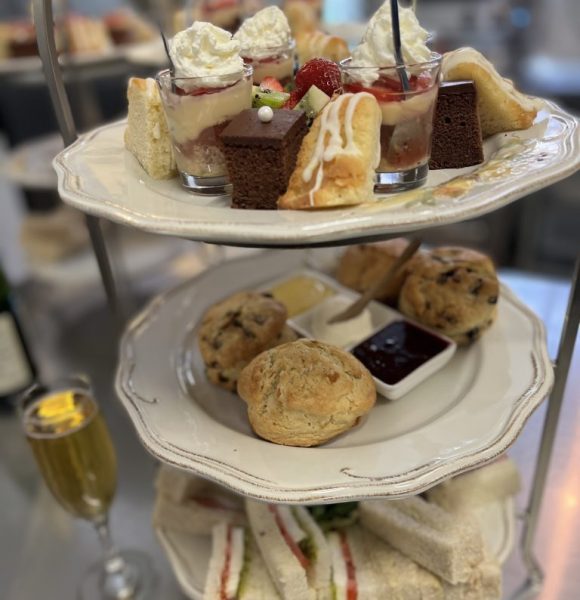 Full Traditional Tea Service
Guests will enjoy a prix fixe menu presented on a three-tier serving stand that includes: baked sausage roll and veggie roll with HP Brown Sauce, a selection of freshly prepared tea sandwiches, a warm English scone, SIP clotted cream, preserves, lemon curd, tossed greens, fresh fruit, a delicate sweets selection and a pot of loose leaf tea per person. We make our food in the SIP kitchen using fresh, local ingredients to create the perfect seasonal menu – sandwiches, scones and dessert selections change daily. Vegetarian menus are available with advance notice. $49 per guest
Deluxe Classic Tea
A lighter fare option. Each guest will enjoy a plate featuring freshly prepared tea sandwiches, baked sausage rolls (or veggie rolls) with HP brown sauce, one scone and shortbread cookies. Tables will be supplies with two types of tea, SIP clotted cream, seasonal preserves and lemon curd. Vegetarian menus and tea selections are selected in advance. $35 per guest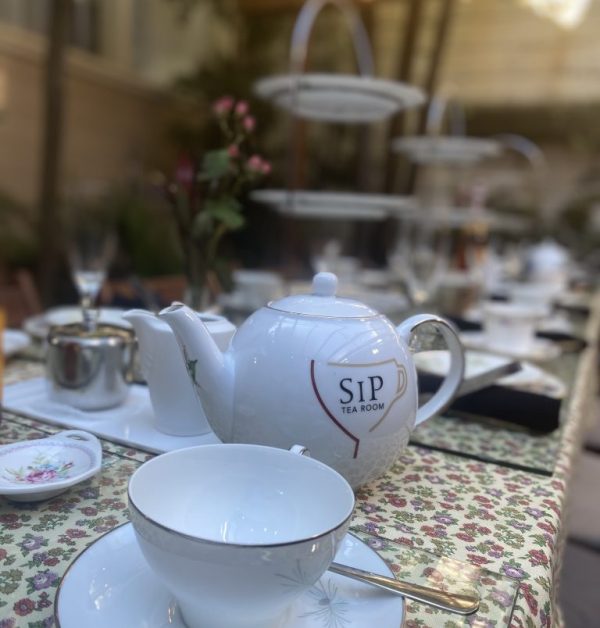 COVID Note: All SIP team members are fully vaccinated and boosted. Doors remain open and commercial air purifiers are located in the tea room, as safety precautions.
Plan your next group outing by contacting us today via the Inquiry Form at the top of this page -or- call us: 415. 683. 5592