An enormous "THANK YOU" for the serge of SIP "Shelter-In-Place" To Go orders! We were surprised and humbled by the amount of requests, and the show of community support! At this time, we are offering fresh scones with homemade toppings, sausage rolls and veggie rolls for pick-up on Sunday. Pre-orders and prepayment please (we want to do our part to encourage social distancing). Place your orders today! Our website is updated daily and we will post new updates as we have them. Stay safe. Stay healthy. Stay strong during the quaran"tea"ne.
–Shannon & Paula
Shelter-In-Place by the Half Dozen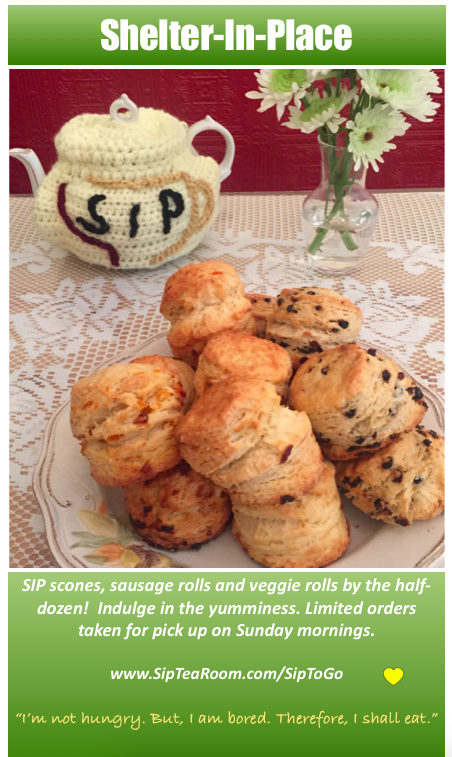 I'm not hungry. I'm bored. Therefore, I shall eat. SIP is here to help! Order your special homemade treats today.
2) Pay for your order via the email invoice we send to you.
3) Show up on Sunday morning at your selected time to collect your yummy order (Social Distancing is practiced at SIP!)
What: Shelter-In-Place by the Half Dozen
When: Sunday mornings. Your food will be fresh out of the oven!
            Collection time scheduled between: 11:00 am – 12:00 pm
Pick Up Address: Sip Tea Room, 721 Lincoln Way, San Francisco, CA 94122
Special Half-Dozen "Shelter-In-Place" Options: Scones, (6) with strawberry preserves & clotted cream = $25 | Sausage Rolls w/side of HP Brown Sauce (6) = $ 18 | Veggie Rolls w/ side of HP Brown Sauce = $18
SIP Gift Voucher & SIP T-Shirts
You can support Sip Tea Room during the "Shelter-In-Place" by purchasing a GIFT VOUCHER to use when we reopen and/or by ordering a super cute SIP T-SHIRT (printed by our friends at San Franpsycho, so you know the quality is great!). We appreciate your support!